April 28, 2018

Race Registration Opens - 8:00 a.m.
Race Registration Closes - 9:30 a.m.

Race Starts
First wave at 10:00 a.m. then every 30 minutes after until 11:30 a.m

Kids 1 mile Mud Run starts at 12:00 noon

Mountain Ranch Community Park
7867 Whiskey Slide Road
Mountain Ranch, CA 95246


Race Info

Location
Mountain Ranch Community Park
7867 Whiskey Slide Road
Mountain Ranch, CA 95246


Date
Saturday, April 28, 2018
Time
Race Registration Opens – 8:00 a.m.
Race Starts – First wave at 10:00 a.m. then every 30 minutes after until 11:30 a.m.
Kids 1 Mile Race – 12:00 noon start time.
About This Event
A 5K Run or Walk for all serious and casual runners, competitive and casual walkers for family and friends of all ages (must be 11 years old on race day to participate).
Race begins promptly at 10:00 a.m.
Kids 1 Mile Mud Run
Open to children under 11 years old. This race will include full size obstacles and at least one mud pit for the kids. Parents are welcome to "run" along with their kids to help with any obstacle.
Race Course
Starting at the Mountain Ranch Park you will follow the course route, through El Dorado Ranch, designed to be fun and challenging, through a variety of terrains, obstacles and MUD!
We are planning approximately 16 obstacles along the route that will range from firefighter skills to strength and endurance tests.
Participant Fees
First Responders/Military
$30.00 – before April 1, 2018 - Registrants are guaranteed a race shirt
$40.00 – after April 1, 2018 – No guarantee of receiving a race shirt
$50.00 – On Race Day – No guarantee of receiving a race shirt
General Public
$35.00 – before April 1, 2018 - Registrants are guaranteed a race shirt
$45.00 – after April 1, 2018 – No guarantee of receiving a race shirt
$50.00 – On Race Day – No guarantee of receiving a race shirt
Kids Race
$20.00 – before April 1, 2018 - Registrants are guaranteed a race shirt
$25.00 – On Race Day – No guarantee of receiving a race shirt
Packet Pick-Up
All pre-registered participants are encouraged to pick up their packs after 8:00 a.m. at the Park the morning of the race.

Are you ready to Stop, Drop & Mud? Sign up here! Register
Obstacles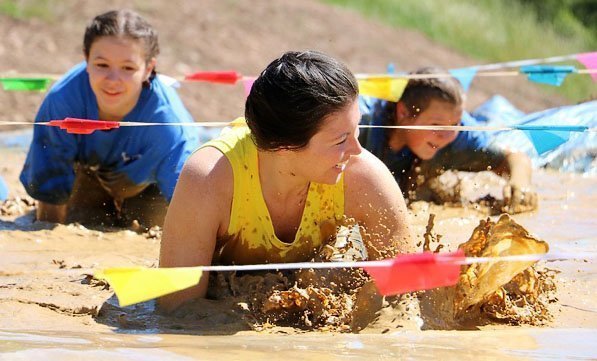 Window Escape
Hose Climb
High Wall
Low Wall
Slippery Wall
Speed Bumps
Confined Space Maze
Tunnel Crawl
Heartbreak Hill
Water Crossing
Mud Pit #1
Heavy Carry
Mud Pit #2
Rock Climb
Balance Beam
Seesaw
Monkey Bars
Hose Swing